Acupuncture in St. Catharines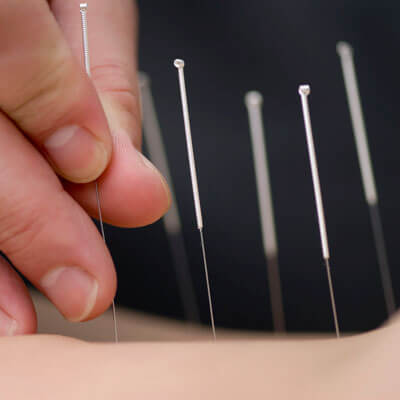 Dr. Dennis Mizel at St. Catharines Chiropractic & Health Centre is qualified to use acupuncture within a chiropractor's scope of practice in the Province of Ontario.
The practice of chiropractic is the assessment of conditions related to the spine, nervous system and joints and the diagnosis, prevention and treatment of: (a) dysfunctions or disorders arising from the structures or functions of the spine and the effects of those dysfunctions or disorders on the nervous system; and (b) dysfunctions or disorders arising from the structures or functions of the joints.
Acupuncture is an appropriate way to address disorders and dysfunction of the spine, nervous system and joints. It is suitable for neuro-musculoskeletal conditions such as neck pain,back pain, chronic pain and headaches.
Acupuncture is a popular treatment employed by many manual medicine providers. Insertion and stimulation of acupuncture needles at certain locations on the body is done to facilitate pain reduction, improve circulation or induce other beneficial health effects. Originally developed as a component of Traditional Chinese Medicine, many clinicians successfully utilize acupuncture in a contemporary, physiological/anatomical fashion, with little or no reference to acupuncture's pre-modern concepts.
We Cater to Your Wants and Needs
Every person we see is unique, and we take the time to develop individual treatment plans unique to each patient. If you are a chiropractic patient and are not comfortable with the idea of a hands-on technique, Dr. Mizel also practices instrument-based methods. You can also attend the practice to have acupuncture if you wish, or Dr. Mizel may recommend it as a part of your chiropractic care.??Patient choice is an essential tenet when it comes to evidence-based care. Dr. Mizel will use all the tools at his disposal to help you reach your particular health goals.
Frequently Asked Questions About Acupuncture
What if I have a phobia of needles?
Some people feel uncomfortable with the idea of needle acupuncture. In our office, you are always in control. If you are ever uncomfortable with any part of the treatment, please tell us to stop. All you have to do is say something or let us know what your preferences are before beginning or at any time while having treatment, and we will accommodate you. We have several ways in which to treat you and will go over all options with you. Electrical acupuncture is available for those who dislike needles. It uses an electrical instrument to stimulate the acupuncture points. All you feel during the treatment is a slight buzzing sensation. It is painless, and nothing is inserted below the dermis piercing through your skin. No anxiety or stress necessary!
Is there additional paperwork for acupuncture visits?
It's important that you understand all the benefits and risks involved. Dr. Mizel will discuss them with you, and then you'll read and sign a consent form after you are fully informed.
Is there a separate fee for acupuncture than for chiropractic?
Acupuncture is an adjunctive service entirely separate from a chiropractic adjustment. If you combine both and have acupuncture treatment and chiropractic adjustment, there is a combination fee. If you have only acupuncture as an adjunctive service, there is a fee for that.
Book an Appointment
Contact us today to schedule an appointment for acupuncture in St. Catharines!
CONTACT US »

Acupuncture St. Catharines ON | (905) 934-7776