Manpreet Saini
Registered Massage Therapist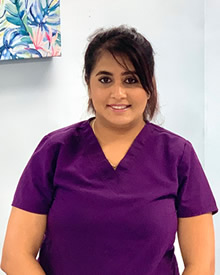 Manpreet is a Registered Massage Therapist and member of Registered Massage Therapists' Association of Ontario (RMTAO).
In Manpreet's spare time she enjoys the adventures of being outdoors. Her favorite thing to do is travel; her most recent adventures have taken her to Paris, San Francisco California, Varadero Cuba as well as multiple places within North America. She also enjoys hiking, camping along with spending quality time with family and friends.
Manpreet was introduced to massage through her own healing after a car accident. She was amazed at the powerful support bodywork gave to her recovery and decided to attend National Institute for Massage. She knows many different modalities that massage has to offer, but she is passionate about helping others create a healthy balance in client's lives either by relieving any pain, stress, or simply obtain a relaxation massage.
Through Manpreet's education, she has found her niche in Myofascial release, therapeutic treatments along many techniques to creating more range of motion in joints; however, she likes reflexology, relaxation, and hot stones. Manpreet uses a slow and steady technique to treat deep tissue and trigger points.
Manpreet knows from personal experiences of just how beneficial massages can be. She enjoys her career as a massage therapist and considers massage to be an important part of maintaining good health. She is excited to work with new clients and help them to improve and maintain good health.
Contact St. Catharines Chiropractic & Health Centre to schedule your appointment today.

Mapreet Saini | (905) 934-7776