Heather McKay
Physiotherapy Assistant/Occupational Therapy Assistant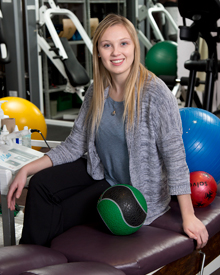 I was born and raised in St. Catharines and graduated from Niagara College in 2015 with my diploma in Physiotherapy Assistant/Occupational Therapy Assistant (OTA & PTA). While attending school I was participating in the women's soccer and basketball teams.
I graduated in May 2015 and began working at the Accident Injury Management Clinic/St. Catharines Chiropractic & Health Centre in June 2015.
I have had experience in long term care facilities and hospital settings. I have been certified in falls prevention, gentle persuasive approach and CPR and first aid.
In my spare time I enjoy playing and coaching soccer, spending time with my friends and family and going to the gym.
Contact St. Catharines Chiropractic & Health Centre to schedule an appointment today.

Heather McKay | (905) 934-7776